Each Year Over 27,200 Animals Cross Our Doors
We Answer Over 300,000 Calls Per Year
Nearly 14,000 Volunteer Hours Per Year
2,976 Spay & Neuter Surgeries Per Year
GET OUR PET CARE GUIDES & QUARTERLY MAGAZINE, PLAYMATE
Our team is constantly working to provide you with a library of resources to help your pets live a long happy life.
Learn More
GET THE LATEST NEWS & UPDATES
Our Services
Upcoming Events
November 30 @ 8:00 am

-

December 1 @ 5:00 pm
Mobile Adoption Unit
2015 Fresno Scottish Highland Gathering & Games
PetSmart Clovis
Petco at Herndon & 99
December 5, 2015 : 10AM to 4PM
December 12, 2015 : 10AM to 4PM
December 19, 2015 : 10AM to 4PM
Valley Animal Center
California State University, Fresno
Willow Gardens
Flapjacks for Fido & Felines Fundraiser
Reedley College
PetSmart North Clovis
Fresno Home Remodeling & Decoration Show at The Big Fresno Fair
River Park
December 12, 2015 : 10AM to 4PM
December 26, 2015 : 10AM to 4PM
View All Dates
Featured Pets
Eevie is a pup who is very docile in her temperament and would be the perfect dog for any family!
READ MORE
This funny fellow is sure to keep you entertained and laughing all day!
READ MORE
Recent Updates
Pet overpopulation stems from several factors: cats and dogs reproducing with little chance of their offspring finding homes, lack of spaying or neutering, pet owners relinquishing their pets to shelters, and irresponsible pet owners.
READ MORE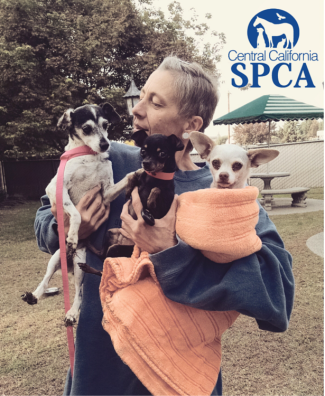 Danielle came to rescue one pretty ancient and tiny min pin and noticed these two senior girls were in need as well.
READ MORE