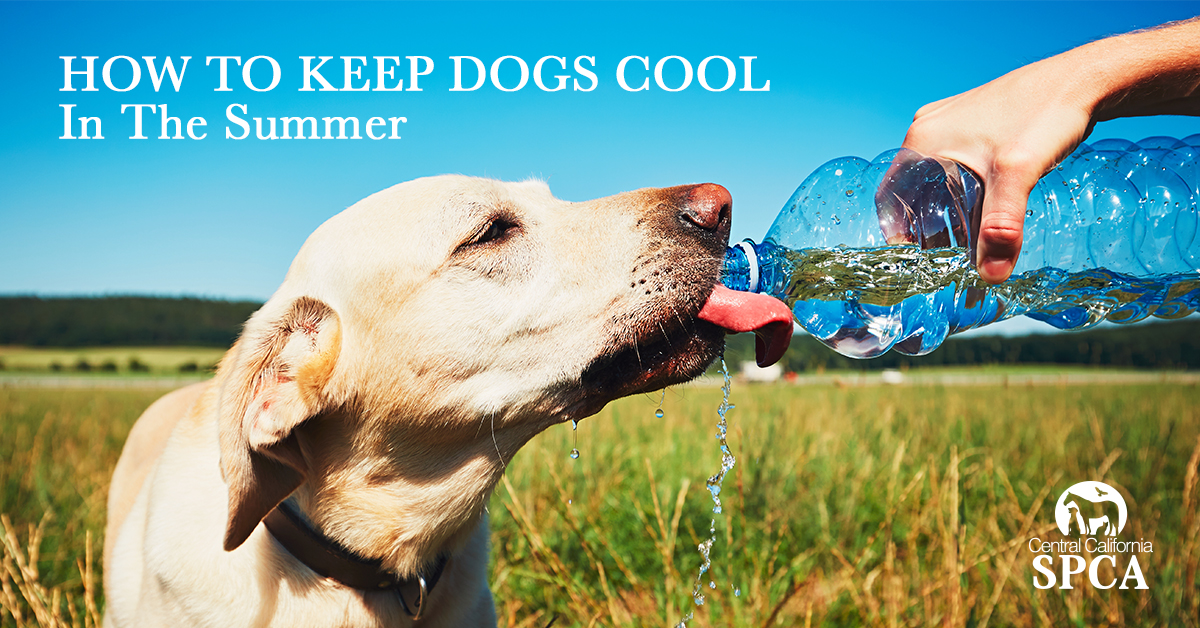 School is out, summer is upon us and we're seeing the temperature beginning to rise, as it always does in the Central Valley. You've probably learned a few tricks to beat the heat, but do you know how to keep your dog cool in the summer months?
With Central Valley temperatures regularly in the 90s this time of year—often for days and weeks at a time—it's important to know how to keep your furry friend from suffering from dehydration and/or heat stroke, which are potentially fatal.
Let's take a look at some of the ways to help your pet stay cool during the summer months.
Water
Heat can dehydrate canines as well as humans, so it's important to make sure your dog has plenty of water, whether you are inside the house, outdoors, or traveling.
Make sure that your pet has water bowls both inside and outside of the house and that they are easily accessible (and shallow enough for puppies), and that they cannot be easily spilled or knocked over. Change the water regularly, so it is fresh and keep it topped off. Consider purchasing a gravity water dispenser or water fountain, both of which can hold up to a gallon of water. Your pooch will stay well hydrated with both options.
If you have to leave your dog for any length of time, either in or out, you can add frozen sticks of water to their bowl to help keep the water cooler. If outside, make sure the water bowl stays in the shade all day long.
When traveling, you can freeze or partially freeze bottles of water to take along. Collapsible bowls take up very little room and stow away easily in a vehicle for use no matter where you are.
Frozen Treats
Who doesn't like an icy treat on a hot summer day? Most dogs are happy to have a frozen treat and it's a good way to keep your dog cool during the summer.
While frozen dog treats are now available in grocery stores nationwide, they can be expensive. You do have several other options. You can make your own frozen dog treats or reach into the freezer and give your dog a Popsicle! Yes, dogs can have fruit-juice based popsicles, as long as they don't contain certain sweeteners, like xylitol. (These can be toxic to your dog.)
Alternately, you can feed your dog cold treats from the refrigerator. Watermelon cubes are a good example. They not only help to hydrate, but the icy cold chunks feel good in the mouth on a hot day (whether you are human or canine!). You can also give them ice cubes, either in their water bowl or just to chew on and play with.
Dip, Swim, Mist
Another way to keep your dog cool in the summer is to provide them with a fun activity involving water.
That could mean going to the ocean, a local lake or a nearby river and letting them splash around. If these aren't options, consider getting a small wading pool for your dog to play, splash or lounge around in. (Pull up a chair and get your feet wet at the same time!) Just make sure that with the heat that no algae builds up, as this can be toxic to dogs.
You can even turn on the sprinklers or get the hose and mist them down to cool them off.
Shade
Shade is integral to the comfort of your dog when outdoors in the summer. Make sure there are several shady spots where your dog can escape to stay cool when the temperatures rise. (Preferably not on concrete or blacktop, both of which can hold the heat if they have been in the sun.)
This could be in a grassy area with a shade tree, on an elevated bed on a covered patio, or in a collapsible tent set on the grass. (These tents are also portable and can be taken to aforementioned beach, lake or river.)
You can also douse the shady spot with water—or dig a shallow hole and fill with water—so that they have a cool place to relax.
Early Morning Exercise
Many dogs are used to daily exercise, but this can be difficult during the summer months. To help keep your dog cool, try to take them out in the early morning, before work and before the temperature gets too high.
If morning isn't convenient, make sure you're careful where you take them in the afternoon or evening. Blacktop/asphalt, and even concrete, can get hot enough from the sun to actually burn a dog's footpads. Avoid these surfaces later in the day if you can, or consider purchasing dog booties to protect your dog's paws.
If you are attempting a longer journey, like a hike, there are cooling vests that are made specifically for dogs that can help them withstand the journey a bit better.
Signs of Dehydration
It is imperative to keep your dog cool in the summer heat. But even the best precautions can fail. It's wise to know the signs of canine dehydration. If, at any time, you feel your pet is becoming dehydrated, make a call or a beeline to your vet.
Watch for:
Lethargy, lack of energy, sleeping more than normal
Sunken eyes
Dry or chapped nose
Dry mouth
Excessive panting
Vomiting, prolonged diarrhea, loss of appetite
Dark urine, or lack of urine
Instability, having trouble walking normally
Finally, do not, under any circumstances, leave your dog unattended in a car during the hot summer months.
Remember, if the heat has got you beat, your dog is suffering too. Make sure you keep your dog cool in the summer using these tips, and be sure to see your veterinarian if you think that your canine companion is suffering any ill effects from the scorching temperatures.
Related Posts :